National Smile Month Competition
The Smile Factor is the theme for this year's National Smile Month (15 May-15 June).
Smile month is run by the British Dental Health foundation .The aim of the campaign is to put the smile back on peoples' faces and help them display their full personalities through the 'Smile Factor' theme.
Do you have the  Smile factor?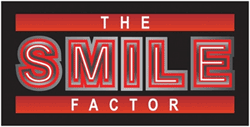 Few facial expressions are as powerful as a smile. A simple smile has the energy to convey some of our strongest emotions. It has the ability to influence the success of our relationships and careers. And it is no coincidence that a confident smile is associated with images of people we see every day considered to have that special 'Smile Factor'.
But not everyone has the confidence to smile. As a result, they are missing out on their very own special 'Smile Factor' – simply because they are not happy or are self-conscious about their teeth.
Would you like a wow! Smile?
Enter our smile month competition
to win this fabulous prize bundle!
25% off any cosmetic treatment with
Free tooth whitening worth £350!
&
Free new patient consultation worth £80!
All you need to do is simply email us a photo of your smile & tell us in a few words what you don`t like about your smile & what it would mean to you to have a wow! Smile.
Email your entry & photo to [email protected] with the subject Smile month competition.
We would like to ask all competition entries to follow us on Facebook as we will be announcing the winner on our page.
Good luck everyone!!
** UPDATE **
The closing date for this competition is now the 15th of June 2011.
All entries will be judged and announced on the 16th of June 2011..